Everyone knows their first car is their first love so, which car should you choose as your first car?
Just passed your driving test? Fancy yourself in your little motor on the big, open road?
We all remember our first car – whether we've painstakingly saved up for it ourselves or have had it given to us as a special present; however it arrives, it should always bring back great memories.
However, you don't want to have to worry about the boring things about buying a car if you're a new driver, such as the running costs, road tax, and insurance, as with the right vehicle, you'll find the dull things about buying a car for the first time can just fade away.
Most of us think that buying our first car automatically means an 'old banger'. One that's been around the block a bit – literally!
That doesn't have to be the way these days with a bit of savvy thinking and know-how.
A new car can also bring peace of mind for Mum and Dad as well as yourself, as they come with the latest safety equipment, as being your first car probably means you haven't been driving that long.
Most of us want an economical car – insurance, as well as running costs, can add hundreds of pounds onto the cost of buying your first car.
If you opt for a small, reliable car, you're likely to get cheaper insurance, too – win, win!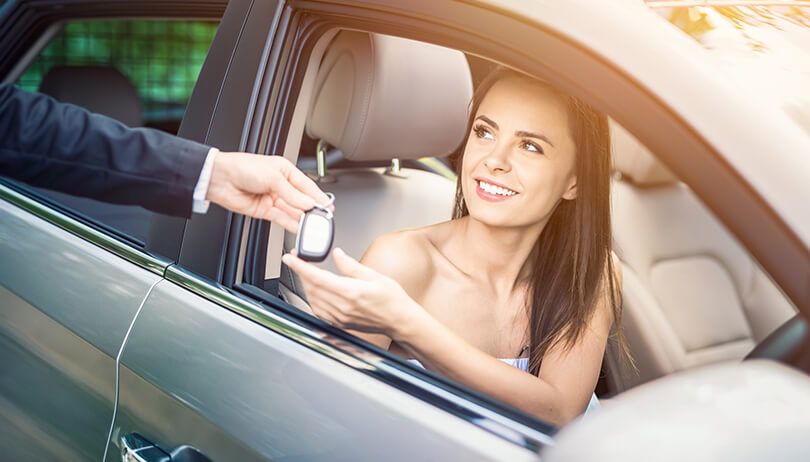 Brand new driver, brand new car
Many cars that are popular with first-time buyers are hatchbacks. The Skoda Citigo and Volkswagen Up! are some examples which are stylish and fun and depending on the size of the petrol engine you opt for, economical.
Several of these type of hatchbacks come as a complete package for first-timers with its insurance group one listing.
Likewise, the Ford Fiesta is a popular choice for a first-timer. It's particularly popular with parents thanks to several imposed behaviour-related settings like maximum speed, a seatbelt reminder, and even a maximum volume for the stereo! These settings are coded to one key, but regular settings take over when another key is used.
Peugeot's 208 hatchback has a great 'Just Add Fuel® Telematics' package, which provides everything you need for the first three years on the road. This includes road tax, servicing, breakdown cover, and wait for it – insurance!
Kia Picantos are thought by many to be a great small car for those buying their first car because they're so cheap to run and come with a 7-year warranty.
The list goes on for hatchbacks including VW Polos, Hyundai's i10, Peugeot's 108, Citroen's C1, Toyota's Aygo, and Skoda's Fabia.
However, remember the new car will generally lose 15% – 35% of its cash value in the first 12 months once purchased and left the car sales forecourt. The depreciation rate usually continues to rise up to 50% or more over three years. And after five years the resale value can be 30 – 40% of its original value.
Buying used
You don't have to buy an old banger or a brand-new car, to bag yourself a great bargain.
It may not be as beautiful as a brand-new car; however, a used car that's more than five years old will still have the latest tech and safety features of a brand new car but will be a cheaper option.
Top tips
Leasing always sounds tempting as you'll be able to get a bigger, more expensive car. However, some would advise against it, as it'll cost you more in the long run.
Buying can be the better option, as after the lease is over, there's no asset to show for all the money you've spent.
Whichever car purchase option you decide to take – get your car inspected, negotiate the price, and drive carefully.